last revised on 16 February 2021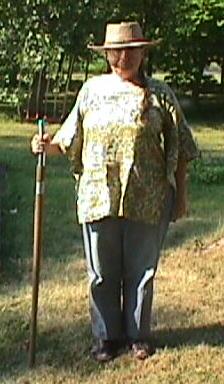 Notice the two folds of fabric depending from the bust, and the way they cause the corners of the hem to move in. Because the bust lifts the hem in the middle, the corners appear to droop.
This would be easy to correct: Just measure the difference in height between the center of the hem and the corners, lengthen the front by that much, then mark a bust dart that restores the side seam to its original length.
But a dart would spoil the whole idea of a poncho shirt, this shirt is for work, the faults don't show as much in shorter shirts made of better fabric -- and I don't usually pose to show the shirt to its worst advantage. (I had to reject the first photo taken because my shirt looked too good!)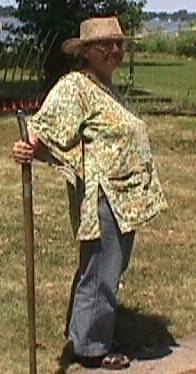 Side view of poncho shirt, showing how hem slants from front to back.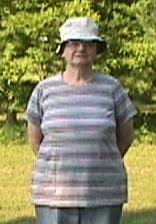 A plain T-shirt, which I designed by removing ease and the shoulder darts from my woven-fabric bodice sloper.
The winter slip that I mentioned on Sewinglist and rec.crafts.textiles.sewing was made from the same pattern and fabric as this T-shirt.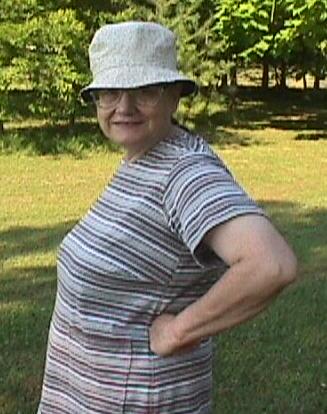 A side view showing the enormous dart, which straightens the hem and eliminates pleats without detracting from the T-shirtness of the T-shirt.
Please notify me if you link to this site.
Comments and criticism are solicited.
«»«»«»«»«» «»«»«»«»«» «»«»«»«»«»
Back to the Table of Contents
Back to the writing page
Back to the personal page
Back to the cover page