What are these things?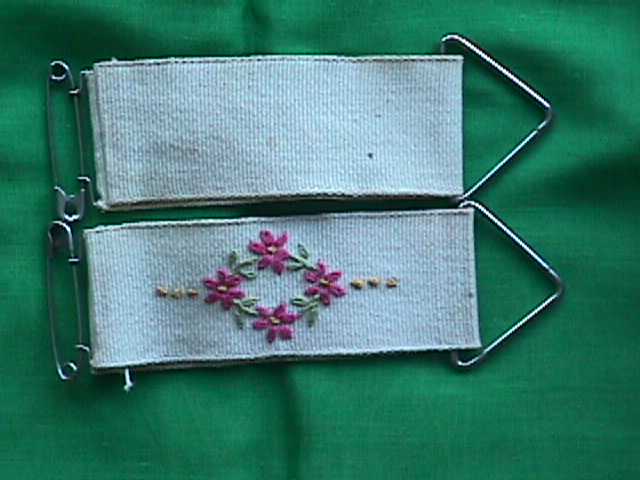 They are identical, so I turned one over to show the back. The overall length is a shade more than six and a quarter inches. The ribbon, which I would call cotton grosgrain, is one and three-quarter inches wide.

Though the straps were embroidered and sewn by hand, the hardware is obviously mass produced.

-----------------

Joy, I just looked at the picture of "what is it" on your web page. I haven't seen those since I was around my grandmother. They are stocking garters. She had several sets of four. They pin onto underpants (one each in front and back on the hem of the leg), that was before elastic waists. Then a button is used in that triangle of metal to hold the stocking, like the little tab on garters on a garter belt or girdle. She told me that on her heavy winter stockings the button was sewn right onto the top of the stocking, for silk you used a loose button so it wouldn't "ladder".

Val

-----------------

Val wasn't the only one to remember garters of that type, and I thought I'd solved the puzzle despite the underpants-damaging coarseness of the pins -- one could work eyelets into the lingerie, the way I did for the badge on Spouse's uniform shirt. Then it was pointed out to me that the triangles on the ends of the garters couldn't possibly hang onto a button.

The puzzle continues.
«»«»«»«»«» «»«»«»«»«» «»«»«»«»«»
Back to the links page
Back to the cover page