Best viewed in a narrow window.

A topological apron
I think it was the seventh decade of the twentieth century when a pattern for a "moebius" apron was circulating on pieces of newspaper. It isn't a moebius at all, since it has two sides -- and it's joined in two places -- but it does have only one edge, which is slightly startling in a garment which appears to have a neckline, two armholes, and a hemline.
The adult version had two seams -- one at each shoulder -- and the single edge was bound with bias tape. My sister told me that this version made a very good maternity apron.
The toddler version buttoned on each shoulder, presumably to make it easier to get onto a squirming infant. We all agreed that this apron was frightfully cute, and made a good summer top.
I scaled the toddler pattern down to fit my baby doll, and still have the pattern and the outfit made from it -- pictures below.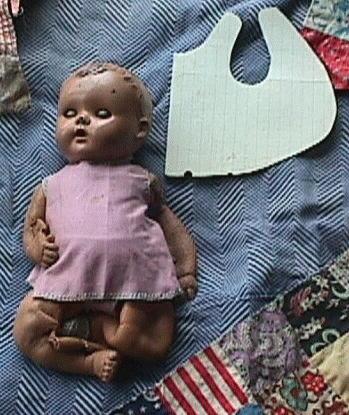 Front view of baby-doll apron, and the pattern from which it was made.
Because of the small scale, I buttonholed around the edge instead of binding it.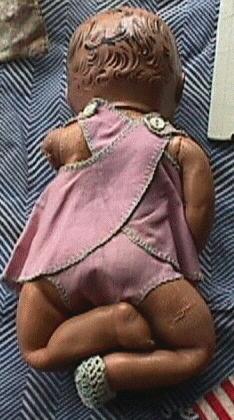 Back view of apron, showing how the straps cross in the back, and how the lower tab of one side buttons to the upper tab of the other side. Notice also how the toddler version would have exposed the then-fashionable ruffles on the diaper cover when the apron was used as the top half of a summer playsuit.







Click small photo above for 710 kilobyte jpg of toddler pattern on newspaper. The original measures twelve and a half inches along the fold.
The fold of the newspaper should be laid on the fold of the cloth.
«»«»«»«»«» «»«»«»«»«» «»«»«»«»«»

Back to the clothing page

Back to Rough Sewing